Named Škodaverse is the Czech brand's commitment to this new virtual world, aiming to improve the connection between these two points with many original solutions.
The new project in the "Metaverse" creates a unique Škoda world, simplifying access to topics such as e-mobility, but also to a test drive of the latest Škoda Enyaq Coupe RS iV. In addition, the Škodaverse also integrates exciting features such as the Škoda NFT Gallery, entertainment and interaction with other visitors through a Škoda Avatar. The latest Simply Clever podcast featuring Metaverse and Web3 strategist Diego Borgo will tell you everything you need to know.
"A virtual trip to the Škodaverse allows fans and visitors to learn more about our brand and create a stronger connection with it. By joining Metaverso, we are taking a proactive approach to new technologies to stay innovative and increase our appeal to younger customers – in line with the next level – Škoda 2030 strategy".

Martin Jan, Member of the Sales and Marketing Council of Škoda Auto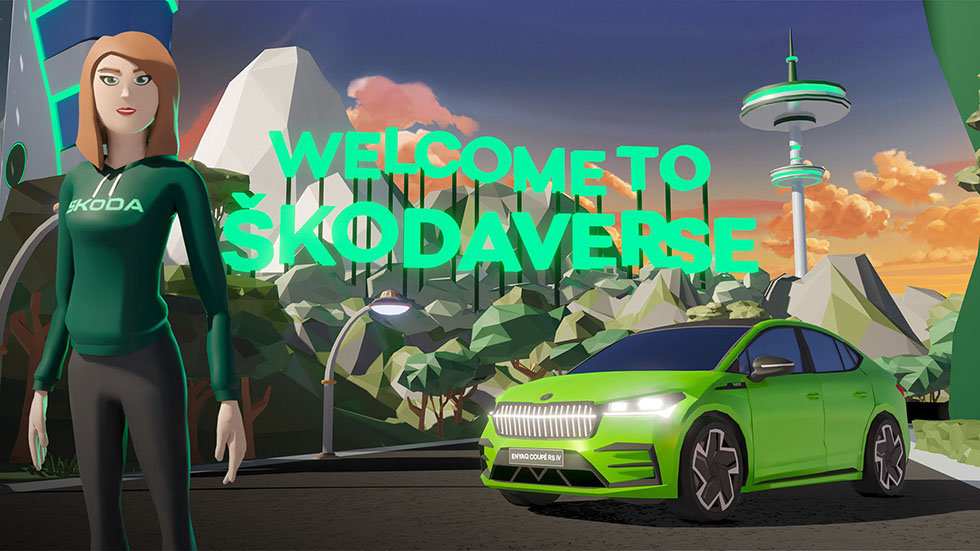 The Škoda Metaverse Experience is a 3D virtual world based on the Nemesis platform. Upon entry, guests can use their Škoda skins to use on their avatar while exploring Škoda Island in Metaverse. Visitors can experience the latest Enyaq Coupé RS iV in the display space, take virtual test drives and learn more about the topic of Škoda's e-mobility. Škoda NFT Gallery presents immersive virtual exhibitions of NFT artwork. The space also provides entertainment in the form of digital events and conferences. Moreover, live events such as press days and product demos will also be possible in the future.
Diego Borgo, a well-known Metaverse and NFT consultant who guides Fortune 500 brands in this new web development, explains: "Thanks to blockchain technology, we can now prove ownership of assets, which was previously almost impossible. Imagine being able to own, create, and invest digital assets as you would assets in the physical world. But the story does not end there. As we continue to evolve the web, we are entering the Metaverse era. It is a place where people can immerse themselves in 3D virtual worlds, using avatars to represent themselves. It represents another step towards advancement in the way humans connect digitally. The possibilities are endless, and we are just beginning to explore this world.Borgo reveals more tips and tricks in his latest Simply Clever podcast.
Tests: Check out tests of new cars made by Auto + journalists (click here)